PROCESS CHART FOR MWP : RAW WATER TO FINISH PRODUCT
MINERAL WATER PROJECT TYPE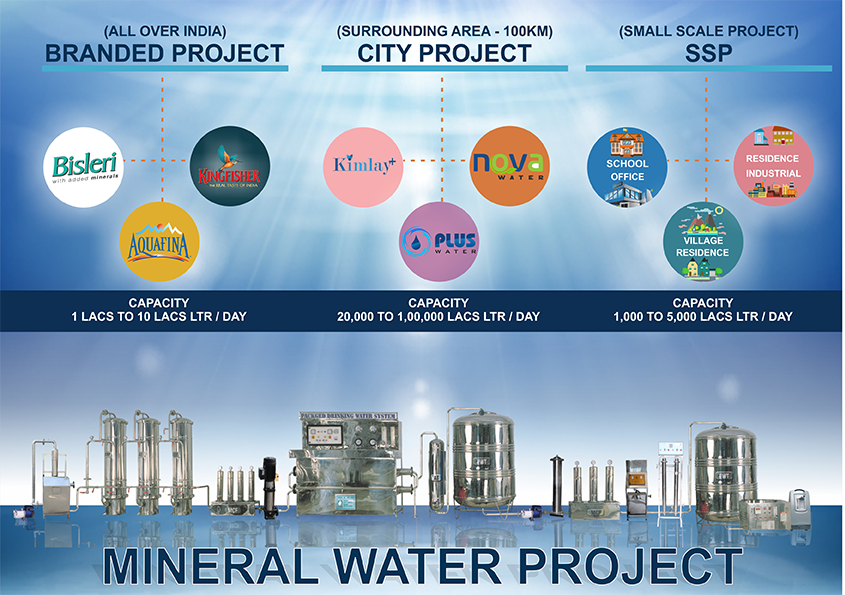 MINERAL WATER PROJECT CHART
As you know that now a days, lots of diseases are occurring because of impure water, if people don't drink pure water they can't keep balance of their health. Pure water is very important for everyone i.e. from younger one to elder one. For that we can consider our proverb "Prevention is better than cure."When we are talking about pure water, we are happy to announce that we "Indian Ion Exchange" An ISO certified company always stands at higher level in quality.
In today's time, you know that salt level and T.D.S in water increases day by day which affects the health of person. So, awareness to drink pure water increases day by day in public. People incur lots of rupees to avail the mineral water. So for that much big popularities are jumping into this business to avail the facility of pure water even to normal person and they are earning more profit by this.
It is proven very prominent business globally and very fast moving and profit making business.
LONG STANDING BUSINESS:Never ending demand Essentiality has made it long term business.
HIGHEST FPROFITIBILITY:Best in consumable industries.
INVESTMENT:From 1 lac – 1 cr. any type of business class / investor can afford.
GRAND FOR BUSINESS:Government facilities like subsidy 35% to 50% / Bank loan up to 85%.
LOW PAY BACK PERIOD: You may get your money back in 12-24 months.
STATUS BUSINESS:Give you immese response with many,
After fabrication of the unit
At the time of assembling of the unit.
While fitting of sealed pack Membrane
Inspection of fully assembled plant.
ZERO MAINTENANCE:
With the best design our plant has absolute zero maintenance. The replacement of consumable is also low. Further, preventive and periodic maintenance are easy and can be done by any persons.
FACTORY LAYOUT: